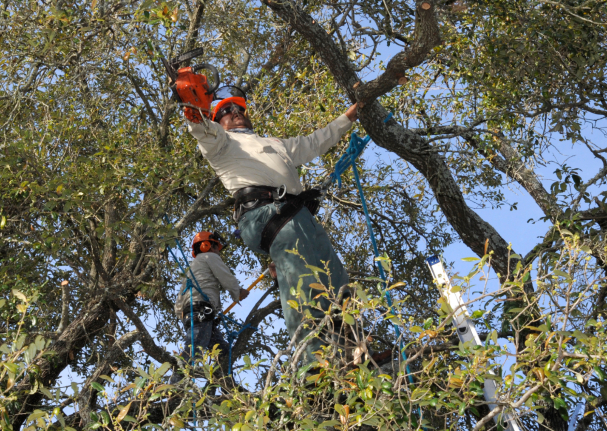 If you're looking for dependable tree lopping in San Diego County, look no further than Carlsbad Pro Tree Service. Our highly trained and experienced professionals are experts at safely removing large branches and limbs from trees of all sizes, without damaging the tree or surrounding property.
We also resize and reshape trees to make them safer for everyone to enjoy. These things are never done "off the cuff" or on bankers' hours. Our crew is hard-working, dedicated, and fully committed to doing excellent work.
Dial 760-280-5757 to get free estimates.
About Tree Lopping
Tree lopping is different from pruning in that its purpose is to resize or reshape the tree so it can blend in more safely with the environment. This is often done for aesthetic reasons, but it can also be done to protect property and people from the potential damage that a large tree branch or limb could cause.
Pruning, on the other hand, is typically done for health reasons. It's important to note that lopping should never be used as a means of correcting problems with a tree's health. Doing so can cause more harm than good and should only be done by a trained professional.
The Carlsbad Tree Lopping Process
When you contact us for tree lopping services, we'll come to your property and assess the situation. We'll then provide you with a free estimate of the work that needs to be done. Once you give us the go-ahead, we'll get to work right away.
Our tree lopping process is as follows:
We'll start by removing any large branches or limbs that are causing a safety hazard.

We'll then cut back the remaining branches so they're an even length all around.

We'll finally reshape the tree so it looks more natural and fits in better with its surroundings.
As you can see, our process is simple but effective. And because we're professionals, you can rest assured that your tree will be left looking healthy and beautiful.
The Trees We Take Care Of
San Diego County has quite a number of pretty specimens. We've done tree lopping for pines, palms, eucalyptuses, carrotwoods, and plenty of others.
We'll care for your own tree as if it were a hospital patient and we doctors. Indeed, that's how Carlsbad Pro Tree Service goes about every job it does. You won't look outside to see a bunch of guys drinking coffee or goofing off. Nobody here is going to steal breakfast muffins through your kitchen window…at least not until the job is done! (kidding now).
Carlsbad Pro Tree Service is the expert at tree lopping. Give us a call to find out more.
Tree Lopping in San Diego County
Don't wait until it's too late. Contact Carlsbad Pro Tree Service for all your tree lopping needs in San Diego County. We're always happy to answer any questions you might have, so feel free to give us a call or send us an email today!
If you need tree lopping services in Carlsbad or anywhere else in San Diego County, we'll be more than happy to help you achieve the look you desire for your property.
We're easy to reach at 760-280-5757.